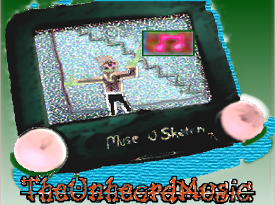 A Forum for Music Wanting a Forum
Autumn 2001
---
Send your Review copies to:
The Unheard Music
609 Morehead Street
Eden, NC 27288
---
---
Wayne Seymour and Fred Reynolds
"Cloudwalkers" CD
[hog_fiddle@hotmail.com]
Seymour: guitar, dulcimer, hammer dulcimer, cittern
Reynolds: guitar, dulcimer (on "Sidth Beagh, Sidth Mhor")
Traditional songs from points all over the compass ("Castle of Dromore", "The Foggy Dew", "Un Canadien Errant", "Nostalgias Tucamanas", "Sidth Beagh, Sidth Mhor", "The Water is Wide") and six Seymour original tunes here; played with energy and delicacy - with the able assistance of Andy Booze: tin whistle; Forrest Covington, Jr.: synth; Jim Eanes: guitar; Cathy Fears: flute; Janet Furman: fiddle; and John Maddocks: recorder. A lot of hard-chargin' continuously acquisitive people I know have no tolerance for structured acoustic music.
"Doesn't move fast enough! Ahhhh...that's ALL been done."
Woe to those who cannot slow their stress-addicted metab's down enough to remain in one comfortable chair long enough to let the mist and dew; the smell of corn whiskey, mead, and lichen; the feel of lace brushing one's cheek immediately before a kiss - all evoked and invoked by this intricate, sweet and gentle music - wash over their weary senses. As they should.
---
Edgewater Experimental Instruments Consort
"Peering Over" CD
[CONTACT: tomnunn@earthlink.net]
Is Danlee Mitchell in this group!?!? Yup, Partch overtones, microtonality, homemade instruments that generate unfamiliar - tho' controllable - sounds. People (unless you're some Ph.D. Ethnomusicologist cat who actually needs the location to be right), why spend big bucks to travel to some inhospitable, and far off martial-law type place - risking box-knife cuts and everything - to get'cha some 'otherness' in your ear. As much as I like, have sampled from, and physically immersed myself in world music's deep cauldron, and that's SOME, I am certainly no expert on any aspect of its ingredients.
The EEIC are fifteen brave Argonauts willing to row aural-oars carved by Tom Nunn through clashing rocks and swarms of Harpies, past dangerous Cyclops-thown boulders, and straight down the gullet of Poseidon himself. Go to Tom's website and read about the scads of briliant instruments he's thunk up: sonic ray, techtonic plates, north star, crustacean, t-rodimba, 11 trees, bug, bat, beetle, crab. Not only do their individual ranges of musical expression simply spank the drawers off nearly any traditional instrument one can envision, but they are beautiful to the eyeball as well (which brings is back to the top). Modern music performed on attractively crafted original instruments played by serious and focused creative professionals. Y2K+1 Partch-like music of high quality and interest. All pieces are improvisations, some 'oriented' via graphics (a la Cage), instructions (a la Earle Brown), etc. A wonderful disc. Who is "peering over"?
---
JUGALBANDI
"Yellow Star Mailing List" CD
[www.jugalbandi-music.com]
Hyam Sosnow: drums
Greg Segal: guitar and gadgets
Live duets -> DAT. No overdubs. Very, very interesting texture, 'dialogue', and risks happening here. Sosnow knows his kit and its potential intimately, and navigates its many surfaces with verve, restraint, courage, and a steady hand. Segal uses his self-built pedalboard (loaded with great vintage analogue things) carefully and confidently to change the color of his 'brush', as required by the moment. Good improvisation. "A Judeo-centric band with a Pakistani name...My interests have been multicultural for a long time. That's in the arts, in philosophy, mythology and theology, etc. I'm sort of a pan-culturalist, that's how I was raised. I was also raised to believe that the basic people of any group are decent people with the same feelings as anybody else, regardless of where they come from; that generally it's the people who call the shots that make the trouble. As an adult I know that this is not always so, not when there are hatecrimes and mobs and terrorists. But I still believe there are good things to be found just about anywhere, and there is no such thing as a totally corrupt culture... Hyam and I had wanted to discover if there was a name for the traditional Indian setup where there's a sitar player and a tabla player- string and percussion duet. We sort of figured we were a modern US version of that. Hyam works at Kenwood and there was a guy from Pakistan working there for a short period. Hyam asked him if he knew there was a name for this stuff and without blinking he said "Jugalbandi". The more research I've done on the term, the more it seems appropriate, in a generic sort of way. I did come to discover that it wasn't a Pakistani term, per se, but more a term from when that area was all India- the Indians use it too. I've just always liked music from that part of the world. " - G.S.
---
Matt Turner
"Shards of Wiggett" CD
[www.execpc.com/~penumbra/]
Wisconsin cellist Turner offers twelve improvisations for piano recorded July 1999 at Lawrence University's recording studio. "Shards.." is a many-spiders-pouncing high energy amphetemine-Monk splatter party. "Chill Room" is long, slow, and sexy; followed by "House on a Hill" which has that kind of controlled and athletic dart and wobble that so appealed to me on Jarrett's Bremen-Lausan LP set. I believe Matt's leaning in there like an auto mechanic, wrenching from the inside on "Breathe, Shudder" - a 'prepared' piece (as they call it) successfully extracting sounds from that piano that one is not likely to ever hear again. The variety extends through to the end of this disc. Turner is clearly capable of dealing with the piano from a sheet music place, as many of the riffs and rolls and micro-melodies in his improvisation are complex, amusing, and dextrous in a deliberate way...definitely not one of those "Hey! A piano AND a tape deck in the same room! I can make a noise!"-type deals, of which I have heard far too much and excuse me while the memory of all of that wasted effort and empty noodling makes me hurl. This is a damn fine collection of piano music and I am not going to give it away. Looking forward to Matt's other disc in this formidable pile of work over here...
---
MJB
"sup foo?" DAM-CD
[www.mp3.com/MJB]
Michael J. Bowman (all instruments) has been chugging out home-crafted quirk-Pop and ear-friendly experimental songs for what?...almost 12 years. He was a frequent mention in the OP offshoots of the mid-to-late 80's, and what makes SUP FOO? worth trying out is his unique approach to doing things as a one-man-band. He's a fine drummer, a solid guitarist, a reedy singer, and has a very firm handle on his home studio. The song Commodore 64 reeks with late-Beatles G. Martin nuance - particularly in how MJB's arranged those descending figures. Lyrics? Here are some snaps: "I'm a cow...MEOWWWW!", "I want you to come to me without a stitch of clothing on", "If I laugh at your stupid jokes, it's just because I'm kissing your ass",....I love this variety! Bowman occupies an uncrowded area in contemporary music where humor, intelligence, honesty, and passion thrive and percolate. Had he been born in 1947, we all would have heard him on AM radio in 1968.
---
FUNKMEISTER G
"Explaining the Name / "Death Valley 69" EP
[www.bulbousconfusion.com]
F.G. is Australian "D.I.Y. chaos" artist Graham Halliday. He's a member of Vocabularinist, and other groupings; and is fixing to issue a 20 year anniversary tribute record of Sonic Youth covers (and therein may lay a key to his musical motivations). He recently sent me a collection of unaccompanied solo recordings which I added solo recording to for our first 'improvisational duets series' disc together - which proved to put me into an enormous learning curve in order to fathom FG's clearly deliberate, tho' inscrutable sonic logic. Here he gathers five pieces that clock in at appx. 10 minutes.
Jagged and abrasive like sandpaper on teeth...harsh guitar skronk...Beefheartian rhythmic splatters and angles. Quite frankly, unlike anything or anyone else I've ever heard. How rare. Everyone who thinks they've "heard it all", hasn't.
---
MICRO-EAST COLLECTIVE
"Out of my Face" CD
[www.umbrellarecordings.com]
Time constraints and finger-fear (ok, Laziness) prohibits listing ALL of the players/improvisors here, but I will list the soundsources on this splendid 'collaboration' betwixt North Carolina's M-EC and NYC's Dr. Nerve: dbl bass/cornet/slide trumpet/'trumbone'/all saxophones/all clarinets/trombone/cello/oboe/ocarina /'swoona'/slide whistle/'soundspicuous'/tuba/piano/percussion/flugelhorn/ vibes/flute/guitar/and shakuhachi flute.
I improvise, and 20 years of it has taught me that the more improvisors gathered, the greater the likelihood of a big bloody pileup and anarchic disaster - particularly when the record button is pushed. Live, such things are 'forgivable', owing to the excitement of being there. To their LARGE credit, Micro-East Collective have yet (to these ears) to suck at being huge. They're PHAT, but never just fat. If you enjoy improvised music, this is one of the very few places one's ears can go to hear a big-band do it spiffily. Frankly, I can't differentiate M-EC from The Nerve here, nor feel a need to. The ensemble-improvising possesses focus, a keen respect for space, clean humor (you can hear the audience cracking up), and in the historical context of 9/11/2001, serves as a model for how disparate viewpoints and stances can gather, tolerate, learn in real-time about others, and smile. Gleaned from two live performances, one in each contributing band's home-zone. Just plain, awfully good, evocative listening.
---
DON CAMPAU
"Beyond Fake" CD
[http://lonelywhistle.tripod.com/]
California DIY radio-personality/singer-songwriter/guitarist Campau continues his long track record of self-produced Pop/un-Pop/Huh?-Pop; tapping into the diverse talents of Achim Treu, Toshi Hiraoka, Dan Susnara, Joe Menichetti, Aku Tardiff, and John Susnowski to flesh-out his compositions. What do they sound like? Well, first off - JUST LIKE DON. Also, like Remain in Light-era David Byrne, early Ultravox, 'Duke of Prunes'-era Zappa, late-Police...God, it just goes on and on. Well (and interestingly) produced - meaning that there is a vast digression from the 3 or 4 styles available on popular radio here in the culturally vague 21st century. The crux of the biscuit is Campau; because it's his voice, and its sort of Don Pardo directness, that squats atop every piece. No matter what he says, implies, or infers sounds urgent. It is.
---
TOM NUNN
"Burning Palms" CD
[www.GarudaRecords.com]
In the past, there was the hurdy-gurdy.
San Francisco instrument-builder/improvisor/author/collaborator Tom Nunn gathers here ten solo improvisations performed on the Octatonic T-Rodimba, "constructed fom a 3/4" birch plywood sheet with 33 threaded steel rods bent at 90 degree angles attached to the board in groups of 11...the instrument is fully chromatic through a range of an octave and a fourth...in addition to the rods, there are three 'zing trees' (...making gong-like sounds when struck), a pair of strings connected with a small steel washer, a line of finishing nails with random pitches,...textured surfaces for scraping, a loose fitting bolt to make chirping sounds, and a couple of aluminum discs...which are scraped or struck" - one of many instruments of his own invention.
YEESH! (And I thought a trombone was tough to play.)
From this visually attractive instrument, Nunn coaxes a symphonic variety of sounds and moods, many non-Western in timbre and tone. At times, I am reminded of the traditional Korean ensembles I heard at Min-Sok-Chon, with gamelan-like density, intensity, and vigor. May hurt some to play the thing, and hence this collection's title.
Absolutely beautiful music, and it is improvisation. 'magine that. Get this CD now.
---
MJB
"Feed" CD
[www.semperlofi.com]
Another new Michael J. Bowman disc, which starts right off with 2 minutes of some fantastic musique-cement snippet collage which segues into wall-o'-fuzz chordal jam that chugs along for a minute and a half before morphing into something that rocks differently beneath a Casio sky and distorto-percussionscape with scary unintelligible comment over the top...then it's that alley behind Eraserhead's house for a moment...then some post-New Wave dance thread with Morricone-ish guitar reverb-spiders barking over that flanged horizon. Folks, for one tune, that's some mileage! I love hearing cheap keyboards played really interestingly, and Bowman sounds like he's got the really saucy ones in his home studio. The confidence with which Bowman deploys strange ideas is refreshing. For example, on this 4'30" piece ("My Posthumous Baptism"), there's what sounds like a backwards cymbal crash swooshing gently and steadily along in the background - independently of the rhythm of the song - sounding sort of like surf. Guh-roovy.
---
previousTheUnheardMusicprevious
Summer 2001 edition
Summer/Autumn 2001 edition
---
Home Site