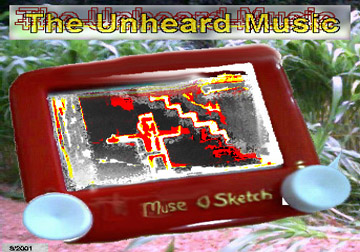 A Forum for Music Wanting a Forum
Summer/Autumn 2001
---
Send your Review copies to:
The Unheard Music
609 Morehead Street
Eden, NC 27288
---
Captain Beefheart and the Magic Band's song - "Ice Cream For Crow"
---
John Jasnoch
"That Other Worldly Feeling" mini CD
[H. Lemke, Bremerstr.31, 33613 Bie...eld, Germany, 05 21...26 74]
UK resident John Jasnoch is an improvising guitarist/stringed instrument player of no small ability. He was a participant in Derek Bailey's 1988 'Company Week', and has released numerous interesting solo and collaborative projects. This wee little mini-CD contains five pieces which clock-in at about 21 minutes and possess enough brain and ear candy to rival any full-length CD guitar record I've heard in recent memory. [From biography] "[Jasnoch] began playing guitar 1967. After having spent a number of years in various areas of popular music (primarily "folk", top 40 and Country & Western), became involved with improvised music in 1978. Moved to Sheffield in 1979 and joined Sheffield Free Music Group. Subsequently joined "new-wave/free-jazz" group Bass Tone Trap. Then went on to work extensively with (for example): woodwind player Charlie Collins in a regular duo, in the Modum Quartet, the Bone Orchestra and other ensembles; + Martin Archer in the electro-acoustic duo ASK and the extended sax quartet Hornweb. In 1988, took part in Derek Bailey's "Company Week" at the ICA London. Went on to play many concerts in UK, mainland Europe and North America both as a soloist and with various ad hoc ensembles (with [for example] LaDonna Smith, Davey Williams, Paul Lytton, Louis Moholo, Jeffrey Morgan, Erhard Hirt, Max Eastley). Current main activities are duo with instrument builder/sound artist Helmut Lemke (The Long & The Short Of It) and duo with drummer/percussionist Rob Dainton.
Approach to guitar playing is a multi-instrumental one (as is common with woodwind players) utilising a number of types of guitar and guitar variants. No interest in instrument preparation or alternative tunings – more interested in using conventional guitar language (as I understand it) in a creative way."
...and lemme tell ya folks, Jasnoch delivers. Toss those silly 'Frippertronics' and Steve Vai records and dig into the real deal.
(NOTE: John is working on a duets record with some of my solo recordings, and I am very eager to hear what alchemy his sounds affect on them.)
---
Donkey
"Show"
[Accretions CD ALPO20 - www.accretions.com]
Seven live chunks from three y2k California performances by DONKEY: Hans Fjellestad: keyboards/electronics; Damon Holzborn: guitars/electronics; here w/ guests Matt Ingalls: clarinet/violin, and Marcus B: turntables/electronics.
Tangerine Dream layed the foundation for improvising bands like Donkey, but by comparison, TD are merely a watercolor wash alongside the broad texture, squeek, honk, and BANG! provided here. Great use of restraint, silence, and call-&-response. Each member of this small unit is given plenty of opportunity to define himself...so what I'm saying is that the music contains and communicates internal respect and active listening, rather than the continuous, relentless 'frontline battle' showboating that sometimes ruins collaborative and group free music. Rarely idiomatic. Very fine disc.
---
JFK Jr. Royal Airforce
[slutfish records, 327 bedford ave. #2, brooklyn, NY 11211]
Fifteen years ago, this group would have been signed by SST and promoted alongside their noisy LA/Seattle-Rock contigency. Biker field-holler vocals, distorted and fuzzy electric guitars, thud-bass, psychedelic elements (on the song "Open Up The Temples of Space", we heard distant hand-percussion and wooden things, heavily processed instrumental stretches, unique keyboard patching/tweaking...), and post-Bonzo softball bat drumming. The trumpet is used cleverly and creatively, long washes and hold-tones beneath and on the horizon. Either a sustain pedal or a tube-screamer on "11" here ("Sonic Youth"), and a droniness that recalls SY. There's no getting out of this garage, or jet hanger, or wherever JFK Jr. Royal Airforce create their Stooge-y sound monoliths.
---
Tantric Triage
"Entromological Etudes"
[http://users.tm.net/rotcod/]
Matt Turner: electric cello
Ernesto Diaz-Infante: guitar/bass/digital drums/violin/broken CD player/bowed microphone/typing/radio/samples/tape collage
Dick Metcalf: Kurzweil PC88
'Tantric Triage'...hmm, what could that mean? Sounds dangerously final...is that what Loreena Bobbitt did to her abusive husband? Anyhow, this is a fantastic15 piece improvisational journey, and represents (for me) a big step forward in the ever widening, oil-on-glass-like spread of recording projects involving Metcalf/Diaz-Infante and others. Matt Turner is a new element in these ears, but his broad pallette of extended technique on cello - radical bowing/scraping/percussive sounds/quiet vistas/hands-on noise - take the M/D-I axis into neat directions. The balance between individual components is well navigated (this is a studio assemblage of added performances, rather than a live thang), making "Entromological Etudes" stand with a clarity and manipulation of individual changes in dynamic sometimes absent on earlier projects. (Of course, this is simply my take on things, and I am notorious for my fuse-length attention span.) What I had to say to the band about this CD was that it is "the best thing I've heard of theirs to date." Splatter and pointillism, serene 'chamber music' like stretches, the creation of unfamiliar (but believable) 'environments', all couched in a community of red-hot creative interplay. It'll make your brain breathe.
---
The Left Coast Improv Group
[Jimzeen CD 1003 - www.bayimprovisor.com/leftcoast]
Jim Ryan: flutes/kalimba/alto sax/small percussion
Ernesto Diaz-Infante: prepared guitar/violin/small percussion
Bob Marsh: cello/violin/voice
Shoko Hikage: koto
Scott R. Looney: laptop computer/interactive electronics/melodia
very in-your-ear and live sounding...this is a room...lots of spaces between sounds here ('Cliffhanger')...knuckles crackin', a shakere?, bowed grunts and Ernesto making his guitar sound like a 3 year old in a toychest...BLAST OFF!...love the melodia (remember those, in 60's elementary schools?)...quiet again...very controlled dynamics and pattern-entrainment, which is a skill many lack and its absence can make for some tedious listening -
LSIG
avoid cliché', can gracefully/abruptly segue from butterfly wing to collapsing building..and you should hear some of what this sounds like
because (as I say to my students) it will make you smarter.
---
Forward Energy
"FORWARD ENERGY@21 Grand"
[Jimzeen CD 1004 - www.bayimprovisor.com/leftcoast]
Another Jim Ryan (sax/flute/word) involvement - here, with drummer Donald Robinson, Alicia Mangan on tenor sax, and Damon Smith on arco bass. Forward Energy has existed as a performing entity for four years. The spoken word 'Beat-ness' present on this gig recording, the room ambiance, and the careful relative levels of the instruments throughout set this Jimzeen release apart from the one reviewed above. The double sax thang, tap-tap-tap-tap-tap-BAM! explosive and propulsive drumming, the sonic foundation and horizon Smith's bass creates, and pianist Looney functioning, it seems to me, like the group's own Carl Stalling sound effects-guy, when he's not doing more accessible or textural things. Man, this Donald Robinson can DRUM, and I'm talking about equal amounts perfectly controlled rudiments, and action painting, Charles K. Noyes-style SPLAT! and KONK. Ryan can make his instruments do whatever his Muse suggests, and with individuality...(this section reminds me of the classic 'Oregon: Live -w- Elvin Jones' LP Vanguard put out around 1970, which I mean as high praise).
This, too, will make you smarter.
---
SPUDSUCKERS!: A Tribute to DEVO
[www.outside-the-skin.com/spudsuckers]
Alright, I'll admit it...I've got a track on this one (you find it). Anyhow...how about dem DEVO? I was a wee college lad when 'Are We Not Men?' came out, and the Brian Eno production drew me right in. I liked about half of the LP intensely, the 2nd LP even more, and then things fell into a cycle of diminishing returns after that. Of course, other folks thought they just got better and better, so call me a freak. My interest in The Residents followed the same avenue. Anyhow, this is a neat compilation, and it's likely to have more appeal for younger people than it will for those of us who were quirkball teens when the stuff came out. A bunch of friends and conspirators have tracks here, and all things being totally unfair, I'm going to mention them: THINGS OUTSIDE THE SKIN [Goin' Under], CLANG QUARTET [Swelling Itching Brain], SNAKES AND LADDERS [Gut Feeling], YONI PIN [One Dumb Thing], FUNKMEISTER G [Timeout For Fun], and GENTLEMANIAC [Girl You Want] all pull off unique takes on songs you've heard (if you think you haven't heard Devo, you're wrong...it's like that little curly-girl song on the Pepsi commercial - there's no escaping it...it's everywhere). There's a sort of Techno predominance here, which makes the collection an interesting 'period' reflection on the Past. Sounds like a lot of the contributors have those nice Roland digital 8-tracks. Did I mention that the other bands stack some hot tracks as well? Yes.
---
The Fourfathers
"Far Further" EP
[www.benhorrendous.co.uk]
Well, for starters, this disc opens with a cover of Captain Beefheart and the Magic Band's 'Witch Doctor Life'; the Fourfathers' original tunes have Beefheart-y names: 'the dead fish', 'triangle flat face', 'bloody old bat', and 'old sod sam sits in old joe's chair'; these tunes sound HONORABLY similar to mid-late period Magic Band executions; and the band members even have crazy pseudonyms a la' Don VanVleit: Dennis Martian (dead-on, gripping vocals), Fast Paul Table (guitar), Benjamin Horrendous (bass), Zark Starfish (drums), and some sax on one piece by Vital Will. Ever since 'Doc at the Radar Station', and 'TMR' showing up on RS's "100 Most Influential Albums", comparisons to the Magic Band Sound have been plentiful, albeit often (B-52's, PiL) far fetched. Some groups of adventurous players who actually plumbed the depths of Beefheart's recorded output have succeeded at admirably replicating something of the Beefheart-sound. This has happened IMHO only when folks deliberately and tenaciously dedicated themselves to accomplishing the creation of something akin to the elusive "Beefheart-sound". I've actively sought Beefheart-y sounding music since 1983, and with the exception of Name, Crazy Backwards Alphabet, Kradjursanstaldten, Zoogz Rift and the Shitheads, Tom Waits, and very few others, no one's gotten close. The Fourfathers deserve a notch on the same gunstock as the above mentioned sharpshooters. They're 'doing Beefheart' on purpose, and doing it with aplomb.
They'll make you smarter.
---
Doctor Nerve
"Beta 14 ok"
[http://www.cuneiformrecords.com/]
Number One: Anything Nick Didkovsky touches turns into music.
Number Two: Doctor Nerve are and have been the smartest Rock band in America for almost 20 years.
Number Three: Nothing Cuneiform puts out will make you dumber.
Number Four: Greg Anderson (el.bs.), Leo Ciesa (dms), Nick Didkovsky (el.gtr./vox/claps), Dave Douglas (tmpt/baritone thing/FX), Yves Duboin (sop.sax.), Rob Henke (tmpt/vox), Michael Lytle (bs&contrabs clarinet/vox), and Marc Wagnon (vibes/piano samples/claps).
Number Five: [from liner notes] "Beta 14 brings to completion three years of work. A fair share of this time was spent exploring form, particularly musical form, and the role of its composer in its determination. Of great utility was the composer program I wrote during this period, entitled 'DrNerve.hmsl'. This program generated compositions orchestrated specifically for Doctor Nerve. It repeatedly dealt me severe aesthetic shocks and blows, which of course is a very good thing. It also blurred the boundaries around this composer, as it became increasingly difficult to identify just who or what composed 'NerveWare 1,2,and 3'. On the far end of this blurred boundary lies 'Fast Fourier Fugue', a computer generated vibraphone piece which composes itself during the act of performance, each result being unique and outside of my control. Finally, there is the listener as active composer. That's what the 44 Nerve Events are for. Torture your CD player with them." - Nick D.
I loved and wrote about the 1st D.N. vinyl LP when it came out, and I still like 'em. This collection rocks ass, tickles my buzz-bone, and has Zorn-like stumbles and lunges.
Smartfood!
---
James O'Brien
"Spirit Days"
[http://cdfreedom.com]
As you may have noticed by now, I like to write about things I've seen and heard happen. James O'Brien appeared on Worcester, Massachusetts coffeehouse and open-mic stages around 1996. A short, intense looking fuzzy-headed young feller crouching behind a big dreadnought acoustic, staring across the room and sizing things up, before launching into one of his naive folk-ragas - passionate, loud, and aggressive acoustic music...no flash, all power; no tricky riffage, all power chord; no baloney slices in sight. And a big voice for such a little man...quite Tim Buckley-ish; fluid and male, much improvisation in his manipulation of dynamic, pause, and inflection, fountaining spiritually-probing and psyche-baring lyric. Cool song titles too: Low Decay, Elvis Dodges, America, Softer Than Static, Dying At The Big Top, Courtney Killed Curt, Jupiter Falling, Spirit Days. I don't recall if James and I ever played together, but listening to this '98 disc makes me wish we had. Minor treadmills and diminished trampolines. Firmly 'of his generation', and eloquently refracting its zeitgeist.
Not dumb.
---
John Janoch & Helmut Lemke
"the Long & the Short of it"
[Helmut Lemke / Gellershagenhof 8 / D-33613 Bielefeld / Germany]
JJ: el.gtr/ac.12-string gtr/lap steel gtr/mandolin/tenor banjo
HL: strings/tapes/tenor sax/bs.clarinet/voice
It's noisy, scratchy, splattered and spiky...got strange hissy lanscapes, sounding like gathered ambient recordings layered or procssed...Janoch's guitar becomes decidedly cello-like...rain/automobiles passing/birds but not birds overhead...something rustling in the closet, and Mom's out cold on the couch...insect digestion...Swamp Thing in the shower with Wonder Woman...post-Magic Band guitarist guitar meditations and clustering...farts and burps and aural-peristalsis...HL issuing slaughterhouse screech and penitentiary wails through means only known to attendees of the gig-proper...like cabbage smell from the neighbors' house, this assails your senses...the human voice blats and there's a strange 'countrified and chicken-fried' quality to Janoch's guitars. Another gig I, regretfully, missed.
SF:9.
---
visionEar
"Future Sans"
[http://www.vision.com]
Jim Konens is visionEar, is half of The Detroit Improvisational Duo -w- Rotcod Zzaj, and is a unique 'fusioneer' when it come to somehow melding John McLaughlin, Kraftwerk, Rap, electronica, techno, and pure streaming synth improvisation into one big thing that neither molests nor whores the comparatives. I could do without these drums, but people have said that about MY stuff too. To each their own. Konens kicks booty on the electric guitar, displaying virtuosity in several areas. Looping voices, hypnotic organ, large environments, NiN cum Glenn Phillips sounding rockers, and...well, there ya go.
Very clever.
---
Peter Zolli
[selections from] "Letters To Aslan"
[www.mp3.com/GoodRecords]
If The Beatles, Mike Nesmith, Elvis Costello,Jim Croce, and Jack Dejohnette got together to cut a Christian Pop EP. Yup, even heathens might like it.
Here, the ridiculously multi-instrumental Zolli performs all voices (great harmonies thoughout), all manner of guitar, bass, keyboards, recorders, drums and percussion. This guy is a super recording engineer and prickly producer as well. You ever heard of that dude 'Jack of All Trades'. Pete's him.
It'll make your soul smarter.
---
East October
"Camera Obscura"
[http://artists3.iuma.com/IUMA/Bands/AUTOMATIC_MUSIC/]
(I hope the above URL is right, no contact info anywhere in sight) Another, the 2nd, record from Greensboro's East October; here supported on several tracks by members of Automatic Music, an improvising rock band in which E.O. plays. Some techno drumm-y things carrying the big-beat dance tracks, some ambient horizons with indistinct things in the foreground, strange swampy maelstroms and radical treatments of existing source sounds...not too many referents leap to mind, which can be a good thing...kinda like the first time you watched 'Eraserhead'...if it were a CD to listen to instead.
Doggone weird.
---
John Janoch & Rob Dainton
"having similar or related structure"
[th.jas@care4free.net]
JJ: electric guitar/12 string electric soprano guitar/tenor banjo
RD: drums/cornet
Recorded live between July and September 1998, this documents some particularly interesting and singular improvisation. Janoch foregoes 'preparations' (alligator clips/drumsticks/pen springs/etc) and goes straight for the throat using a plethora of unconventional stringed instruments, dangerous hands, and a very dextrous Muse. Dainton inserts his splat, whack, thump and tumble sounds, many of which I cannot construe a source for...WHAT WAS THAT? RD is equally engaging on cornet, which I believe must somehow defy gravity and hover before his lips, given how immediately he seems able to shift to it from percussing. As a guitarist, one of my own big epiphanies was hearing the Guitar Solos LP's Fred Frith put out years ago. Janoch would have been right at home with the cool cats on those 3 records, and possesses an intensity and pointillistic grandeur that noisier and angrier guitarists lack. Wonderful hand-painted cover insert. This will most certainly make you smarter.
---
The O-TONES
[CONTACT: Bob DeBorculo, 1111 walwood drive, NE, Grand Tapids, MI, 49505USA
Listen ye to the bawdy tale of the O-TONES, 60's scholarship signature
sound simple symbolic shape-laden lyric and wit...DeBorculoesque burstz
'n' blatz an' guitar splats and drum whackz and I tho't I wuz hearing
some sorta Soft Machine outtake at one point, then Hermins Hermits then
Weather Report demoz...SYBIL, or WHUT?!?! Very fun and varied
collection of quirk-o Pop/Jazz/Razzamataz.
-Osgood Phlegm, esq.
---
Benjamin Horrendous
"Horror Stories"
[www.benhorrendous.co.uk]
SONGS: bloody old bat, a forest smoking, fantasy nightmare dentist chair pornographic dinosaur orgasm, anti santa claus, starving black babies, the dead fish, green alpine parrot, depression, the wooden mutant devil goat from hell, triangle flat face, the voodoo queen, the fatted calf
Here, we get a few more players with groovy pseudonyms - Wild Billy Paddle (guitars), Bill Ding (more drums), Gillian Thrilling (voice, clarinet, lyrics, tin whistle) - fleshing out The Fourfathers' sound. Acid-Swamp, room temperature lard-smell, nothing much to stare at except this fly...fuzzy jello...
memories of dead pets...fear + loathing = Now...guh-rooovy Daddi-o! pass me on'a dem herbal Jazz cigarettes, wont'cha?...'Starving Black Babies' has excellent mouth drums a la' Alonzo "Blind Pineapple" Phillips...very flu-tastic here..."Hey! Kerouak, throw me a cold one!"
---
Micro-East Collective
"062099"
[http://www.umbrellarecordings.com/]
HUGE-band improvisation, incorporating Rock, novelty, and symphonic instrumentation to spacious and glorious effect. double bass, cornet, oboe, cello, trumpet, alto horn, accordion, clarinet, toy piano, pennywhistle, 1/4-tone xylophone, tuba, baritone, tenor sax, drumset/percussion, soprano sax, keys, vibes, flute, guitar, shakuhachi. North Carolina may be a backwards, awe-uninspiring sac of hypocrisy and self-hate; but it sure do shovel a lotta of coal into the aesthetic furnace! Ian Davis, who co-'leads' this massive soundsource has gathered a cast of over 20 very talented players/noisemakers to co-visualize and perform these 2 (1st one is long [7'56"], the 2nd is VERY long [35'10"]) fascinating pieces. 'LAMENT' - inhale deeply...feel your ribs expand as you fill them with fresh air...bring your instrument to your lips - and gently and innocently insert yourself into the room..." might read a graphic score for this piece. 'EXPLORING THE METAL SPHERE' is an evocative satellite ride through noise-nebulae and past orbital grok-galaxies...the players are surface inspection scientists mapping and cataloging features and defects...."cartographic survey" music..heinously long horn exhalations (circular breathing?), guitar ornamented with green felt, animal shaped mittens...some of this sounds like the 'pretty' static that can be found on shortwave radio on cold, clear nights... "062099" is SmartFood.
---
W.O.O. Revelator/Ernesto Diaz-Infante/Pat Harman Duo
"the first time" CD
[http://www.wooweb.com]
Hello IMAGERY and VARIATION IN TEXTURE! I'm listening to the third track from this happy
collision between W.O.O.Revelator and the Ernesto Diaz-Infante/Pat Harman Duo.
Bonnie Kane (sax-flute-electronics-etc) /Ray Sage (drums-percussion) of W.O.O. bacame W.O.O.Revelator with the addition of guitarist Chris Forsyth in '99. Ernesto and Pat have previously worked together, and Ernesto and Chris have released the very fine "Wires and Wooden Boxes" CD together. A brief, though fruitful live encounter between these creative forces from opposite coasts.
Wonderful foreground/background/horizon shifts, as I think of them, as these five actively listen to, challenge, respond to, and color one another's tweets, squeaks, beats, splatter, gentle inferences and confident bellows...I'm loving this stretch - 7 minutes in to "Urban Slip", one of the two whole-ensemble pieces on The First Time. Most of the possible juxtapositions of the five players are explored here.
Did I mention that this is LIVE? Well-recorded, too.
---
These reviews were originally published in Dick Metcalf's fantastic Improvijazzation Nation webzine.
ELVIS X "words and positions...to live by"
(obtain CD at http:www.MP3.com/elvisx) in this appearance-driven world, if ELVIS X were to judged by appearances only, they'd have a following. smoke-mouthedTucker (vox), bare-chested Muir (guitar), groovy candle-wielding Tuttle, and Scotty Irving in a Residents t-shirt clutching an electrified crutch...big eye-candy. Listening through the tunes, I'm hearing cheap keyboard sounds layered over readings from the Scripture...sung spoken-word...distant cymbals...apocalyptic imagery....(next tune) skeleton-funk! fat-ass bass mating with strange and buzzing guitars (great effects usage!)...I HEAR A Space Drum
IN THERE SOMEWHERE!!!!...the stereo vocal-processing is SPIFF...(NEXT TUNE) YOU figure out the time-signatures at the beginning of this, I GET PAID BY THE HOUR, bustah!... brilliant drumming, and listen to how the musicians slide in and out and in and out of powerful entertainment and groove damage!...NICE...ELVIS X effectively build environments of freight-train 'lectronic sounds and guitar-thunder...LOTS OF HUMOR in here too...I keep thinking I've just heard a cartoon theme, then it's gone...this is intelligent and Dadaistic modern rock. BUY IT!
note: Elvis X disbanded during around 8/2001. :(
---
Clang Quartet "Jihad"
(obtain CD at http://www.silbermedia.com/clangquartet)
Scotty Irving is most easily defined as a 'percussionist' by those who have seen/heard him
play LIVE. But, his recordings, as "Clang Quartet" [his solo performance vehicle] are another thing entirely. The studio becomes an instrument on this, CQ's second solo CD release this year (the first is an unedited live concert recording entitled CQ:4-15-00 on InstrumenTales Records CONTACT:
hipworks@interpath.com $10 ppd). Irving, who has been featured in Modern Drummer) employs [from liner notes] "electrified handsaw/stapler/water bottle-combo, used with an E-Bow and drumstick; electric guitar without strings; hockey mask covered with finger cymbals and bells ("shake face"); junk metal percussion; cicadas; sounds made under a bridge; broken cymbal that is beaten/sawed/dropped/...; "family tapes"; dead tree used as a drum, and a creek". Throughout, Irving expresses opinions regarding
spirituality and education. This stuff ROCKS like Caroliner Rainbow used to rock! Great.
---
VA: Demain - a Silber Records Sampler
(obtain CD at http://www.silbermedia.com )
Many new artists - domestic and international - represented on this album of looping, drone-piling, sampled and modified ambiences, minimalism, and tone-wrestling. They (all) are: Origami Arktika, Peter Aldrich, small life form, My Glass Beside Yours, Remora, Clang Quartet, burMonter, Vlor, fade, and Still. Some of the titles are mysterious, evocative, and *prep* yer head... "Angel Stalk", "Thirteen Layers of Heaven", "each day is like winter". This genre/these genres of listening music are the bastard offspring of Lamonte Young, Terry Riley, Tangerine Dream, Eno, and Phil Glass. Patience is required, and rewarded. I reviewed scads of sound-art/soundscape music while writing for Option and Sound Choice in the 80's. Then, the leaders were Mnemonists, Al Margolis, Jeff Grienke, RRR's output, some things on Cuneiform, and thier ilk. Silber Media is [re-]promulgating a new way of listening; one which dissolves perseverative thought and opens new gates. [from Jon DeRosa's liner notes] "...a culmination of nomadic sound architects and sonic refugees from around the world...the soundtrack for confusion, frustration, triumph, and despair." Great for your mind.
---
Remora / Clang Quartet Cemented in Stone
(obtain CD at http://www.silbermedia.com/remora )
Remora is Brain John Mitchell. He approaches guitar from a spacious, vast-sounding place.
As a player, I am so impressed with how he takes relatively simple signal-sources and transforms them into giants. Layers of timbrally-modified guitar are stacked and layered in long vistas - buzzing and sweeping, giving off heat and reflection, simple, melancholy, organic... Planted on Remora's *back* are the sounds, noises, and thrum of Scotty Irving. [I was there, at a Rockingham County Recyclers'
practice, when he unveiled "the electric stapler -w- E-Bow"!!] Remora/Clang Quartet do not do
"songs", per se. They paint with tone, rhythm, and timbre. Beautiful in a post-apocalyptic way.
Evocative, like photographs and roadkill; elections and tele-evangelism. BUY SILBER MEDIA PRODUCT and grow more brain in yer haid!!
---
This review originally published on Don Campau's "Go Ahead You Review It" webpage.
Free Spirit Suites CD Zzaj Productions (available through http://www.cdstreet.com/)
On Whirling Dervish got The Ventures pulling teeth from the jaw of Stanley Turrentine...
falling through flesh tubes and treading dream-corridors with Dialogue for Drifters...when it's processed well, the rote percussion programs possess a robotic grin and mechanical grandeur,
which insert moments of "meet George Jetson!" into the landscapes these boys conjure. I go pretty far back with both of these jokers and Mark still wrests some of the most obtuse CHUNKS and skanky MOANS from his axe. Zzaj (Dick Metcalf) is...well, "Zzaj". I've had the benefit of hearing scads of his work, and have read reviews of lots of what I haven't myself heard... Zzaj's keyboards are attacked with a childlike wonder, punky confidence, and he is generally operating within knowable parameters (slo-blooze, lounge-jazz, free-form splatter, etc) regardless of with whom he collaborates. One listen, and you go, "There's a whole lotta Dick in there."
---
TheUnheardMusic
Summer 2001 edition
---
Home Site