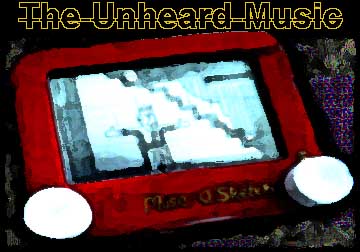 A Forum for Music Wanting a Forum
July 2001
---
Send your Review copies to:
The Unheard Music
609 Morehead Street
Eden, NC 27288
---
BENJAMIN HORRENDOUS
"Love & Madness" CD
[5/2001]
Amongst these 10 diverse and clever original pieces, we get sweet ballads (Love Song), Beefheart-y accompanied tone-poems (Old Sod Sam Sits in Old Joe's Chair, Mad Jack), and spidery instrumentals (The Shrink, One Thing I Know). Somehow, it all fits together like some obtuse Rubik's Cube into a coherent whole. Horrendous (musician/visual artist Ben Waters) is a multi-instrumental (guitar, bass, percussion, chair, chimes, plastic sheet, water tank) musical island floating off the coast of continental Europe. His paintings have appeared on the covers of InstrumenTales Records releases, and have the same easy, colorful quality that his music sports. Supported by Gillian Thrilling (add'l lyrics, voice, clarinet) and Bill Ding (drums), this disc is thick and throbbin' with feel and interplay. Hell, there's even a great cover of Son House's Sun Goin' Down. A fine offering from the UK.
---
V.A.
"I wanna be a Stooges" CD
[1996 - Revenge Records]
The best Iggy/Stooges tribute disc I've heard to date...and there are many. This one collects TWENTY covers of songs from all points on the James Osterberg continuum; opening with The Sex Pistols (the first recorded reunion of the original band) covering No Fun, and includes great tributes by Richard Hell (I Wanna Be Your Dog), The Damned (1970), Loco Lizard (Dirt), "Blind Pineapple" Phillips (Lust for Life), Ladd Foundation (I Wanna Be Your Dog), Surreal McCoys (Search and Destroy), Lucy Knight (Shake Appeal), and others. What can I say...the man wrote the book on breaking down expectations, giving the 'star-machine' a big stiff finger, and pretty much set down the guidelines for Punk/Noise/Industrial music. You don't have to like Iggy Pop or the Stooges to like this disc, but it sure helps. I can listen to this 'un again and again.
---
EAST OCTOBER
"One" CD
[2/2001]
East October (of Jo & Joe, Village Pistols) is a Greensboro, North Carolina sonic/computer artist, and a core member of the NC improvising collective Automatic Music. Gotta love the cover, a surreal, nightmarish tribute to "Meet the Beatles". Tapping into veins ranging from Brian Eno and Tangerine Dream thru The Residents and into post-modern Mannheim Steamroller-y ambient vistas, East October provides a tasty soundtrack for many moods through his cyclical and swirling audio-milkshakes and musical Moon Pies. I am reminded of many things, but find the music on "One" capable of escaping its referents and sailing on translucent wings of its own.
---
DON CAMPAU and GREG GREY
"it's in the air, then it's gone" CD
[6/2001]
Campau: vocals, guitar, bass, keyboard Grey: drums, guitar, keyboards
Don and Greg have been inserting themselves into the indie/homemade music scene
for many years. Great guitar tones abound. Solid, thumpy and chunky drums and percussion. This collaboration showcases each of their stylized instrumental talents, as well as placing a premium on the Lyric...in fact, I can think of no better way to introduce the 'theme' of this disc than to provide the lyrics to This Precious Moment - "This precious moment is gone forever-I try to hold it and press together, this special sequence evaporated, oh-It's in the air now, like a Dolphy solo-We take a chance on our time together, we like to dance on this line of remembering-It's out there, then it's gone, it's in the air, then it's over-you play it and it's done, it touches you and disappears-...Then it's over, kaput, finished, done, finis, es todo, that's the end-it's in the air, then it's over-it's in the air, then it's gone" Quirky, tho' heartfelt. Structured, yet never boring.
---
V.A.
"Hold the Vocals...A Tribute to the Instrumental Hits of the 50's 60's 70's"
[6/2001]
I'm 42. When I was a kid growing up in New York, I remember whistling with my Dad in the car as we listened to AM radio. Listening to this collection covers of of songs from my childhood and youth - alternately scary, amusing, reverent, and satirical - took me straight back to the front passenger seat of that '68 Ford sedan. Seventeen different takes on familiar, nearly archetypal American instrumental melodies of yore; the only exception being an instrumental version of Captain Beefheart's Frying Pan, originally a song with vocals from his earliest A+M singles sessions. Some, few, of the versions suffer from deitude - aping the original songs. You'll hear varied reactions to the following: Hawaii Take 5-0 (a collage of the tv show theme and the Brubeck standard), Mancini's Experiment in Terror, Link Wray's Rumble, Led Zeppelin's Moby Dick, Hotbutter's Popcorn, The Chantay's Pipeline, and scads of other well-known songs. The vast majority of these tracks smack of originality, courage, and confidence. Go-Kustom is an interesting label in Seattle, piloted by d.A. Sebasstian, which has on its roster many other interesting artists, as well as several other good tribute discs (Johnny Cash, The Who..) worthy of your ear.
---
ATOMFOAM
"Atom Glume" unreleased CD
[7/2001]
Twenty-seven pit stops in a yet unfinished fun house of sound... Atomfoam is a multi-talented fellow recording on Cape Cod, MA with friends and associates in various unconventional contexts. While listening to this demo disc, I was pleasantly surprised and reassured to hear intelligent, confident, and brave sounds, structured pieces, and improvisational excursions venturing into places reminiscent of better European and American 'progressive' music of the 70's-80's (Uncle Ball Bearings reminds me, alternately, of Zut en Fou Rouge and Aksak Maboul / F**k Shane of Massacre cum Zappa...in fact, the cut-&-splice quality and inclusion of spoken non sequitur strongly recall early Zappa productions. Don't give up on young people yet, there's still a few out there who don't feed only off the VH-1 bottle.
---
JEFF MCLEOD
"Ye Shall Be Cut Into Many Pieces" CD
[7/2001]
Nineteen collages composed using 365 ten-second snippets recorded each day by McLeod all over the USA during the new millennium year 2000. Sound trite? It isn't. McLeod is a fringe multi-instrumentalist operating within a bouquet of genres, with the same wide-ranging variety that you find on John Zorn records, but in ways unique and attributable only to Jeff McLeod. Harsh? You bet...at least quite often; but amongst these 'sonic blasts', stretches of gentle entrainment, voice samples, theremin, guitars processed into aural monstrosities and lowing animals, percussion, sounds from public places, machines, "some asshole drinking a glass of beer", synthesizer, bells and ambient sounds from nature vie for your attention and get it. Be prepared to set your brain for stun, and enjoy. Did I mention that McLeod is a stylistic-schizophrenic on the guitar? An ambitious and impressive endeavor, executed with intelligence and humor.
---
ERNESTO DIAZ-INFANTE & CHRIS FORSYTH
"Wires and Wooden Boxes" CD
[7/2001]
E D-I: acoustic guitar/piano/toy piano/voice/small percussion
C F: electric guitar/piano soundboard/small percussion
Diaz-Infante is the Seurat of contemporary improvised music, and that's a tall order. Pointillistic and deliberate in approach, his guitar & piano playing evokes abruptly broken stillnesses, scary things bobbing up out of ponds, objects falling from trees in Autumn. Forsyth is more of an action painter, carefully splashing hue and texture onto the big canvas that is our world. You can hear him reaching around that piano soundboard like Phineas J. Whoopie reaching into his packed closet. Together, surreal meditations and confrontations result; to fascinating effect. I particularly like how they've retained the sound of the spaces in which these pieces were recorded. I can hear the room, and wish I could have been in it while they were recording the expansive and thick sound is good all the time, so that I could sneak a few gasps and "Ah!'s" onto the tape. Recorded in real-time using graphic scores and structured approaches to improvisation.
---
NRBQ
"Message For The Mess Age" CD
[1994 - Rhino Records]
For those who haven't yet stepped into the deep waters that are NRBQ (New Rhythm and Blues Quartet), you've got a long row to hoe to catch up with their 27 years of uncompromising and brilliant music. I saw them at St. Lawrence University in the late 70's. Convinced to go by a college girlfriend, I was completely taken aback, floored, and amused by them within a half-hour. NRBQ were playing intelligent and quirky "Americana" music before there was a name for it, and long before current practitioners of the genre were out of training pants. Terry Adams 'quoting' Henry Cowell with forearms and feet on his keyboards; Joey Spampinato (Skeeter Davis' husband, and the chosen bass-player for the Chuck Berry feature film house band in which Keith Richards had to assemble the best of the best roots players available) is simply the most solid singer / bassist in America - and his songwriting is beyond reproach; Al Anderson is a guitar legend, capable of searing and idiosyncratic solos, dexterous chicken-pickin', clamorous guitar-damage, and jazzy comp'ing, with recorded work going back almost 40 years; and Tom Ardolino's skin-work keeps pace with every strange twist the band throws at him with grace, punch, and supportive accent throughout. NRBQ can nod at John Cage and Duane Eddy in the same breath without blinking an eye, and make it sound appealing. This record is yet just another in a very long body of work, all of which contains gems. Big Dumb Jukebox, Spampinato, and Girl Scout Cookies are big favorites around our house this summer, and our three year-old gives NRBQ a big, full-diaper, thumbs-up while dancing around the porch to the 13 great songs on this disc.
---
"F.E.S.T.E.R - A Tribute to the Residents" CD
A two digital audio music collection of strange covers of songs by one of America's strangest, most visionary, and longest running bands - The Residents. People either passionately like the Residents, or think they suck. As far as their first eight years of recording go, I fall into the first category. I found Duck Stab twenty years ago, and it changed the way I think about "Pop" music forever. That said, this collection is an absolutely wonderful glimpse into what the music of the Residents has done to the musical sensibilities of many international musicians and artists...and I helped compile it until my first computer gave out. Anyhow, one disc concentrates acoustically composed tributes, the other gathers electronically composed covers. In all, virtually the whole of the Residents' discography - from Santa Dog through their recent sampling work - are represented here. The F.E.S.T.E.R. (Friends Encouraging Smelly Tonguers to Emulate the Residents) collection was 'screened' by Ralph Records before it could be issued; which should function as a verification of the integrity of the music found here. Highlights include Arte Biglips' brilliant percussive reworking of Anvil Forest, and Clang Quartet's mating of Eskimo and Gingerbread Man into a single piece. Weird and wonderful, amusing and starling; a fine afternoon of undiluted weirdness for anyone willing to strap on the cans and take it all in. Inexpensive, too.
---
rev.99
"Turn a Deaf Ear" CD
[7/2001]
"rev.99 pairs two duos: Akio Mokuno & 99 Hooker and Chris Forsyth & Ernesto Diaz-Infante...Environmental improv begins in fact: recorded music differs essentially from live performance. The "improv world" has never resolved spontaneous concert experience with mechanical reproduction. It wants to, but it won't." [from liner notes]
That said, rev.99 improvises on a level I find refreshing, and overdue; seamlessly incorporating into the group a live engineer (Ross Bonnadonna), who functions as a 'compositional catalyst' by feeding fixed sound to the improvisors' headphones during execution. This provides immediate grist for the next moment's mill.
rev.99 (99 Hooker: chaos poetry/electrified sax; Diaz-Infante: amplified acoustic guitar/piano/toy piano/glockenspiel; Forsyth: electric guitar; Mokuno: g3 powerbook) is able to "respond to the very process of production", making this intermittently cacaphonous & expansive group improvisation organic, evolving, and internally communicative. The CD's texts clearly point disdain at 'popular' and Top40 music, its practitioners, and its listeners. 'Non-musical' sounds and observations fuel this project, which sounds like a soundtrack for an unwritten J.G. Ballard novel about a city cannibalizing itself. Fascinating.
---
STEVEN
"Funerals of Sparrows" CD
[4/2001]
Clever music and Christianity may seem exclusive of one another to some. On "Funerals of Sparrows", percussionist/guitarist Stephen Roach offers a 45 minute ride through the mysteries of Faith with an engaging collection of songs, rich with Afro-Cuban and 'world' rhythmic content. Dourbake, dumbek, congas, shofar, djembe, ashiko, timbales, Moroccan bongos, bodhran, rique, and traditional drums lay the foundation for the guitar, synthesizer, add'l voice, bass guitar, violin, 'cello', hammer dulcimer which provide melodic and drone accompaniment.
---
MIKE LADD
"The Storm" CD
[1996]
Central Massachusetts's songwriter/guitarist Mike Ladd offers eight powerful and passionate presentations of his songs on "The Storm", his 1st CD (Vardis Management, 40 Terminal Street, Westbrook, Maine). I've had the pleasure of splitting stages with Mike, and have always been deeply impressed with his songs and the strength with which he performs them live. Deeply reflective and nakedly honest in his subject matter, Ladd lyrically ponders family, parenting, marriage, and the Past; couching these ruminations in jazzy acoustic settings ornamented with trumpet, bass, drums + percussion, and tenor sax. IMHO, Mike Ladd has the strongest male singing voice in the Worcester area, and is a dexterous and clever folk guitarist. I've used the lyric poem - Daddy, You Lied - in my 8th Grade classroom while teaching Poetry, and the kids have always dug its message. As I said, nakedly honest.
---