---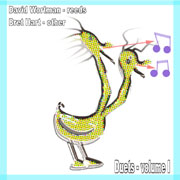 ---
David Wortman: reeds
Bret Hart: guitar / prepared guitar
---
tracks:
1. entering the station
2. take the "A" train (B. Strayhorn)
3. hooked on dodecaphonics
4. pasta, the clown
5. noodles
6. fly me to the moon (Rodgers / Hart)
7. another moon
8. Dmin Etude (Bozza)
10. aria (M. Mule)
---
Between 1998 - 2001, Hart and Wortman taught in the same rural NC middle school. David has gone on to pursue an MFA in music.
Hart's still peddling literacy and hope.