HOME
Bret Hart / Don Campau: "Duets - Volume 2"
---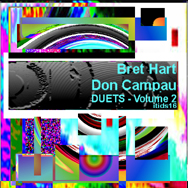 ---
Don Campau: Gibson Ls Paul XR-2, Gibson ES175, Lyle classical guitar, and Yamaha steel-string acoustic guitar; all played simultaneously with effects
Bret Hart: Strumstick, E-Bow, Can-Jo, dobro, flour sifter, etc.
---
HOWL 01
LEGS 02
CROSSED 03
SHARING 04
KESSELL / CRUMBS 05
FROM 06
LOT 07
SUM 08
HEAVYWEIGHT SWAMP-DOT 09
---
TRY SOME!
Ordering InstrumenTales:
CONTACT
US customers: All discs $12 postpaid. Other customers: All discs $18 postpaid.
Until we get some CREDIT CARD ACTION happening for releases unavailable through CDStreet.com, you'll need to mail your payment
(IN US, bank check or money order / Out of US, please use IRC or postal money order)
made out to "Bret Hart") to the following address:
InstrumenTales Records
609 Morehead Street
Eden, North Carolina 27288 USA
Please be sure to write your mailing address legibly.
Thank you!